UX Management: Strategy and Tactics
How this course will help your career
What you will learn
How to hire for, position, and empower a UX team effectively
Best practices to manage and support a UX designer and wider UX team
How management of UX professionals directly affects ROI—both positively and negatively
What your UX team should be doing in order to grow your UX efforts across the organization
Why it's important that your senior management team gets educated on, and possibly involved in, UX
UX management best practices, from interviews and case studies with experts
What sets top-performing organizations apart? Well, for one thing, it's no coincidence that they place a focus on understanding and empowering their UX and UI teams. Not only does this drive organic growth through a more optimal user experience, but it also means that the business can benefit from the ROI (Return On Investment) that UX work can deliver. In most organizations, however, you'll find there is a lack of UX maturity—that is, how embedded UX is within an organization's culture and work processes. And this occurs even when the decision-makers know that UX is core to business and customer stakeholders! We want to help both you and your wider team create a culture, and design mindset, that can truly reap the benefits of UX work. By learning how to apply key tactics, you'll be able to ensure that your UX efforts are having maximum impact across the wider business.
In this course, we will explore the ins and outs of UX maturity by looking at the way your organization is structured and developed. We will give you the chance to grasp UX management as not just a people issue but also a design methodology… all so that you can manage UX as a smart leader, and get the very best from the UX professionals you work with. Even if you're currently a more junior UX, UI or interaction designer, the strategies you will learn in this course will enable you to truly realize the value that your work will provide to your organization.
You will be taught by Frank Spillers, CEO of the award-winning UX firm Experience Dynamics. By taking this course, you'll leverage his experience from two decades of working with enterprise, midsize and start-up companies across a wide range of industries. Given that, you will be able to learn from, and avoid, the mistakes he's come across, and apply the best practices he's developed over time in order to move towards managing your UX team in an optimal way.
The course also includes interviews with experts—including a UX Director, Chief Experience Officer, Product Manager, and User Research Director. These will give you another practical opportunity to learn from people who are highly experienced in managing UX across organizations. All of this means that you will learn how an Outside-In design approach operates, and what it looks and feels like in practice—be it from a product management, executive or stakeholder perspective. Upon completing the course, you will have the knowledge required to avoid unnecessary growing pains, and ultimately accelerate your company's UX maturity so that you win sooner and enjoy a more consistently high level of performance within the market.
Gain an industry-trusted UX Course Certificate
You earn a verifiable and industry-trusted Course Certificate once you complete the course. You can highlight them on your resume, CV, LinkedIn profile or your website.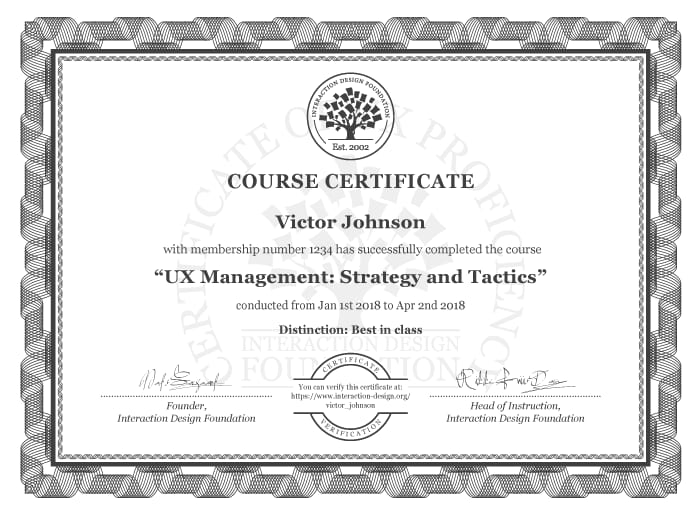 Our courses and Course Certificates are trusted by these industry leaders, who have taken up company memberships with the IDF:
Is this course right for you?
This is one of our intermediate-level courses aimed at design-minded individuals who either already manage UX professionals within their organization, or who seek to grow and improve their own UX practice in order to progress within the field. Therefore, while primarily aimed at management, it is also relevant for anyone who wants to improve the ROI (Return On Investment) of his or her UX/UI work.
This course will appeal to:
UX leads, UX managers, and UX directors who are looking to refine the way in which they manage UX teams and professionals within their organization
UX designers, interaction designers, and UX researchers looking to improve the ROI of their work and progress within the field
Creative directors who would like to enhance the focus on UX design work within their organization
CEOs, CTOs, COOs, and CMOs who want to better position their organization within the market by putting more focus on UX/UI work
Courses in the Interaction Design Foundation are designed to contain comprehensive, evidence-based content, while ensuring that the learning curve is never too steep. All participants will have the opportunity to share ideas, seek help with tests, and enjoy the social aspects afforded by our open and friendly forum.
Learn and work with a global team of designers
You'll join a global community and work together to improve your skills and career opportunities. Connect with helpful peers and make friends with like-minded individuals as you push deeper into the exciting and booming industry of design.
Lessons in this course
Lessons become available at a schedule of one lesson per week.
Lessons remain open for you forever and have no deadlines.
There is no time limit to finish a course.
You have permanent access to your course material, answers, and classmates for the entire duration of your membership.
Estimated time to complete: 12 hours 30 mins spread over 6 weeks.
Learning paths
This course is part of 4 learning paths:
How others have benefited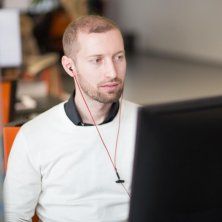 Blazenko Davidovic, Croatia
"The course instructor and speakers all come from very reputable and well-known organizations, they are all so experienced that it's simply a pleasure learning from them directly. Technical prowess, attention to details, great communication, natural flow of topics — are all characteristics they possess."
---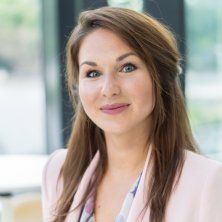 Vanessa Rosenthal, United Kingdom
"Great mix between methodologies and real-world practices. Great to hear a PM's, Researcher's and Consultant's perspective and experiences about UX Management."
---
Julia Silva, United Kingdom
"A major strength of the course was the course instructor's knowledge and the guests he had invited to give some of the lessons an interview format."
---
How to advance your career with IDF courses
Attend lessons at your own pace

Each week throughout the course, you get access to a new lesson, but you can move through the lessons at your own pace. This means you can learn before you leave for work, or in between breaks — in as little as 15 minutes per day.

Network online and offline

Network with your fellow course-takers online, through discussion forums inside lessons. You can also connect with your peers offline via IDF's Local Groups. Local Groups connect you with other designers around your city who share the same passion in UX design as you.

Advance your career

Get a verifiable and industry-trusted Course Certificate once you've scored at least 70% on a course. Highlight your Course Certificates on your résumé, your LinkedIn profile, or your website to showcase your newly mastered skills.
Start advancing your career now
Become a member to take "UX Management: Strategy and Tactics". Take any other IDF UX courses at no additional cost. Take a concrete step forward in your career path today.
Frequently asked questions
Courses
I missed the enrollment date and now the course is closed. Will I have any opportunity to take the course in the future?

Don't worry if you missed the course. We will re-run it shortly. One of the reasons we continually open and close courses is to be able to control the classroom size.

Networking is a large part of our value proposition, so we want just the right number of people inside the courses. That is also why we display the "XX % percent booked" on our course icons.

We'll re-schedule the course and make it available for sign-up on https://www.interaction-design.org/courses in only about a week (or perhaps a little bit longer). The actual start date of the course will be a few weeks after sign-ups begin too. We've found that this is the best way to maximize flexibility and convenience for everyone, especially you as you put your course program together.

Can I take more than one course at a time?

Yes, you can take as many courses as you would like. For example, if there are 30 active courses, you can enroll in all 30 courses at the same time and move from one to the other as you please.



There are no further charges once you have paid for your membership.


Please note: If you have a student membership, you can take a maximum of two courses at the same time. As a student, you can thus still take as many courses as you would like – free of extra charges – just as long as you finish them (or drop them) so that you don't have more than three ongoing courses at the same time. Please note that if you drop a course, progress is not transferable between cycles. So, you'll have to redo the lessons and answers you already completed in the current cycle.

Do I have to be online at an exact time to study?

No. You can set your own study schedule. There are no "live sessions" or "webinars" since our members are from all timezones around the world. We are a truly global community – with members in every single corner of the world.

Thus, once you are enrolled, you can take all the time you want to complete a given course. Every "classroom" in each course will never close, so you'll have permanent access to your classmates and your course material (as well as your own answers).

Will I receive a Course Certificate?

Yes. Every time you complete a course, you get an industry-recognized Course Certificate. There is no limit to how many Course Certificates you can earn during your membership. You will also receive a 3-step guide on how to include your Course Certificate on LinkedIn and in your résumé/CV.


You can see an example of a Course Certificate at the bottom of the Course Catalogue.


I have answered questions in a lesson; when will they be marked/graded?

We do the marking/grading in so-called "sprints," where we sit down and do all the marking/grading in one go. Your answers will be graded approximately two weeks after you submit your work.

We do this because it is much more efficient than doing one little step every day. It's part of our lean/agile work philosophy, and that approach to efficiency is one of the factors that keeps our membership prices so incredibly low.

We are doing it to save you money and as part of our mission to lower the cost of high-quality design education.

I have updated my name, but my course certificate is not updated — how can I change it?

Once you update your name, the certificate will be updated automatically in the next 48 hours.

I have started the course/lesson later than the specified date, are my answers still going to be marked?

We will be marking answers for as long as there are active members. Therefore, even if you are the only person taking a lesson at that particular time, your answers will still be marked.

How are courses graded?

Open-ended questions are graded by our experts and course instructors - not by machines.

That's one of the reasons why our Course Certificates are credible and recognized by industry leaders.

I started a course after the official start date; for how long will I have access to the course materials?

Regardless of when you have enrolled on a course, you will have access to the course materials for the entire duration of your membership. So, if you pay for a one-year membership, you will have access for one year, renewing your membership for a second year means you will have access for two years, and so on.

New lessons are starting before I have had the chance to complete all aspects of the previous lesson(s); am I going to be locked out of these unfinished lessons?

No, you will not be locked out of any lesson or course. You will have access to all course materials throughout your membership, so there is no pressure to keep at the same pace as the specified lesson release dates.

All we recommend is that you try to stick to the same schedule as other participants. The reason is they may have moved on to other lessons, thereby meaning you could miss out on the social aspects of the course(s). However, we anticipate that there will be a constant flow of participants working through different lessons and courses, so overall you are unlikely to miss out. We will also be running all courses again — so there really is no rush.

Are course certificates awarded on a specific date?

No; you can generate your certificate as soon as you attain at least 70% of the total course points.

When will I receive my Course Certificate?

Course certificates will be given to participants when they have scored more than 70% or more of the total course points. For example, if a course contains ten lessons each with ten questions, you will receive a course certificate when the instructor has awarded you at least 70 points (70% of the total course points).

There is no specified time that certificates will be awarded — instead, they are given to participants as and when they have answered all questions, even if this is long after the official end date.

How do I add my Course Certificate to my LinkedIn profile?

Below is a step-by-step guide on how to add your IDF course(s) to your LinkedIn profile:

Log in to your LinkedIn account, then go to your profile.
On the right, in the Add profile section dropdown, choose Background and then select the + next to Licenses & Certifications.


In the following fields add:

Name – Course name
Issuing organization – The Interaction Design Foundation
Check the field "This credential does not expire"
Issue date - Input the date written on your certificate (e.g., May 2019)
Credential ID – Your membership ID number (it's written on your certificate)
Credential URL: Input the certificate URL provided on your course page

Click on the save button.

Congratulate yourself!
You've made a great accomplishment by earning your course certificate, and now the world knows about it!

How do I add the IDF Membership Certificate to my LinkedIn Profile?

Below is a step-by-step guide on how to add your IDF membership certificate to your LinkedIn profile:

Log in to your LinkedIn account, then go to your profile.
On the right, in the Add profile section dropdown, choose Background and then select the + next to Licenses & Certifications.


In the following fields add:

Name – Membership Certificate
Issuing organization – The Interaction Design Foundation
Check the field "This credential does not expire"
Issue date - Input the date when you joined our community (e.g., May 2019)
Credential ID – Your membership ID number (it's written on your certificate)
Credential URL: Input the certificate URL provided on your profile page

Click on the save button.

It is as simple as that. Now, anyone who visits your profile can see your certificate!

How much will I have to pay for the courses?

As a member, you can take as many courses as you want with no additional costs. This means you only have to pay our membership fee to take an unlimited number of courses. There will be no further charges on top of the membership fee, no matter how many courses you decide to take.

Do you provide mostly beginners' or more advanced courses?

We provide courses for all levels of mastery and accross the full spectrum. If you're new to design, you can start from our beginner courses and progress all the way up to our advanced ones. If you're an established designer, on the other hand, you will find some of our lower-level courses provide a good refresher—and the advanced ones, a bit of a challenge.

How long does it take to complete a course?

Once enrolled in a course, you will gain access to a new lesson each week, which you are free to complete without any deadlines and no end date, either.