The Biggest and Most Authoritative Library of Open-Source UX Design Resources
Open-Source, Open-Access Literature
The democratization of design knowledge is at the very heart of our mission. That's why—over 19 years after we started—we will never stop bringing leading designers, bestselling authors, and Ivy League professors together to create open-source, free-to-access textbooks on UX design. This is the world's most comprehensive compendium of design knowledge, made available to everyone around the world.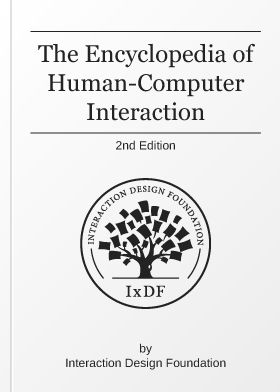 The Encyclopedia of Human-Computer Interaction, 2nd Ed.
Free textbooks written by more than 100 leading designers, bestselling authors, and Ivy League professors. We have assembled our textbooks in a gigantic encyclopedia, whose 4,000+ pages cover the design of interactive products and services such as websites, household objects, smartphones, computer software, aircraft cockpits, and what have you. Name an item of design interest, and you'll probably find it discussed inside.
Research Bibliography
Browse the world's largest Wiki Bibliography on human-centered technology, comprising 138,000 authors in more than 127,000 publications.
Contributing Authors
We are honored to have these highly regarded professors and experts as contributing authors of our educational materials:
Don Norman
Usability expert who coined the term "UX design"
Don Norman is widely regarded as the creator of the term "UX design." An expert in design, usability, and cognitive science, Norman strongly advocated for user-centered design, which now underpins almost all design fields. His ideas on aesthetics, affordances, and usability profoundly impact the way we design everything, from doors to software applications. In 1993, he joined Apple as a User Experience Architect—the first ever use of the phrase "user experience" in a job title. Norman's books, The Design of Everyday Things and Emotional Design, are regarded as essential readings for any design student. He is currently director of The Design Lab at the University of California, San Diego, and is also co-founder of the Nielsen Norman Group.
---
Clayton Christensen
Harvard professor who coined the term "disruptive innovation"
Clayton Christensen was a professor at the Harvard Business School, and is best known for creating the theory of disruptive innovation in his 1997 book The Innovator's Dilemma. Christensen's ideas are influential to business managers and designers alike, through reinforcing how design, business, and marketing should work hand-in-hand in order to create exceptional value and commercial success. His insight is that market disruption—i.e., a new market overtaking an existing one—is not about technological sophistication, but rather about how technology is innovatively applied to achieve a new and better business model—that is, how technology is designed to create value for users.
---
Frank Spillers
CEO of Experience Dynamics
Frank Spillers is a web and software usability expert and is the founder of usability consultancy firm Experience Dynamics. With a MSc in Cognitive Science, and eleven years of experience in UX design, Spillers has worked with clients such as Hewlett-Packard, Intel, and Microsoft. He is an experienced practitioner of user-centered and emotional design, and has developed a new research technique called "cognitive archeology," which aids experts when researching emotional product design.
---
Stuart Card
Designer of the computer mouse
Stuart Card is a pioneer of human-computer interaction (HCI), and played a significant role in designing Xerox PARC's first commercial mouse. His research led to the first graphical user interface (GUI) employing a desktop metaphor, making reference to a desktop, folders, and files. The fact that operating systems today still use the desktop metaphor is a testament to the incredible impact of the research by Card and his team of designers. Card also contributed to the formulation of Fitts' Law, which describes the time required to point a mouse at a target. This has influenced the way we design navigation user interface elements, such as menus and buttons.
---
Eric von Hippel
MIT professor who conceptualized "user innovation"
Eric von Hippel is an economist and professor at the MIT Sloan School of Management. His idea of user innovation—that innovation is mostly done by consumers rather than suppliers—has impacted the way we design for innovation by challenging the assumption that innovation flows linearly from companies to end-users. In particular, von Hippel discovered that because products are designed to meet a wide range of consumers, these consumers often modify and refine the product to fit their specific needs. These innovations are then fed back to manufacturers, which further informs the companies' innovations and reveals that, often, innovation happens non-linearly and in multiple stages.
---
Alan Dix
Author of global bestselling textbook on HCI
Alan Dix is a computing professor at the Human-Computer Interaction (HCI) Centre of the University of Birmingham, UK. He is a co-author of the global, bestselling university-level textbook Human-Computer Interaction. Dix is passionate about designing things that connect humans and computers—everything from machines to software. He has co-authored and published hundreds of papers on HCI, covering topics ranging from information visualization and usability, to designing for appropriation.
We only invite contributions from globally recognized authorities within their respective design fields.
View more of our contributing authors
Our open-source books